These are no tell-tales. These are real stories of girls and women exposed to sexual abuse and exploitation due to what has become known as 'period poverty'.
Afia's mother got sick when she was 12 years old. She had to move in to live with her aunty at Techiman where she was enrolled in a school.
It was at the school she first had her menses, something she lacked knowledge about. She soiled her uniform and boys in her class made fun of her.
When Afia got home and informed her aunty about her experience, she was emotionally abused and received no support; neither education on her menstrual cycle nor access to sanitary pad.
She resorted to using toilet roll and went back to school after two weeks.
During her second menstruation, she soiled her dress again. This time, a man in his 30s saw her in her state of distress and invited her home to wash down.
"I saw him as a father figure in the community and saw no harm in following him," Afia told David Akuetteh on Luv in the Morning show.
The man promised to provide her with sanitary pads every month, in addition to a daily stipend of Gh1.50.
But this was a bait.
Afia needed to become his girlfriend as a condition for the provision of sanitary pads when it's that time of the month.
"At that time, I was very young and didn't know anything," she said. "He told me he likes me and will be buying me more pads and he will be giving me money to school and would increase the money to 3 cedis if I become his girlfriend," she narrated.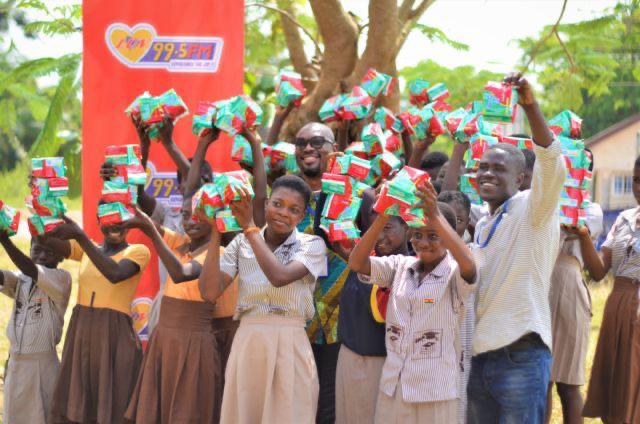 Defiled and shattered
Afia agreed to the man's proposal to come out of the shame she had to endure anytime she was in her menses.
She was defiled and later got pregnant at age 14.
During antenatal, she tested positive for HIV.
Her aunty was least interested in her affairs. The man denied any responsibility when Afia's mother confronted him.
"At that time I ignored my mum. I told her it's her fault. Why did she get sick for me to go there for something like this to happen to me?" a teary Afia lamented.
This drove her to almost commit suicide.
"In my mind I said I was not going to take the [anti-retroviral] drugs. I will just wait for death to come and take me," she said. "I only took the medicine so I will give birth for the baby to be healthy, but in my 9th month when I went to the hospital I was told I lost the baby in my womb".
Unfortunately, such cases of abuse and defilement are not reported for appropriate redress.
Afia, now 19-years, could not further her education after completing junior high school.
She believes she would not have fallen prey and suffered such an ordeal if she could access a sanitary pad at her tender age.
"I had a dream to achieve; I wanted to become a journalist and an author of books. If I had the opportunity to be in school, my life would be far better than it is today," she sobbed.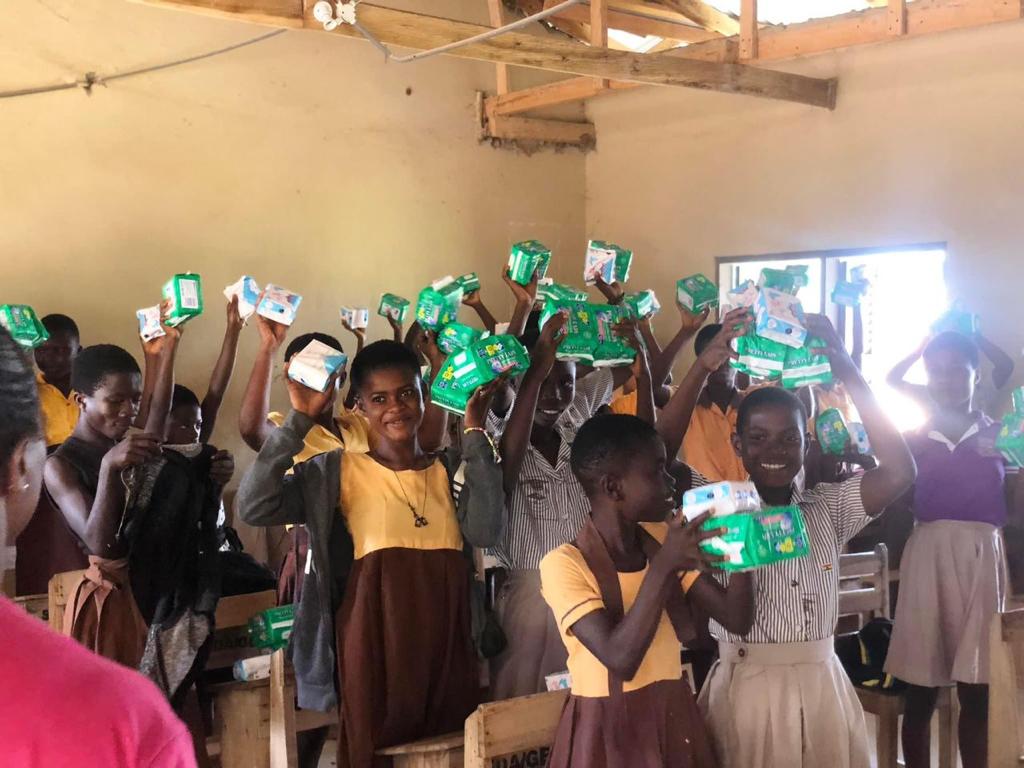 Hazardous menstrual care
There are tales of girls folding newspapers to absorb blood during menstruation. Some tear their exercise books for that purpose and others use polythene bags.
In other instances, girls use their socks, polythene bags, leaves and paracetamol to control their menstrual flow.
These are some of the untold stories of girls who cannot access sanitary pads.
"These girls are from poor homes, and so cannot afford the cost of sanitary pads. This is why we ask the government to subsidize the price of sanitary pads," said Josephine Kwarteng, Girls Coordinator at the Ghana Education Service in the Amansie Central District.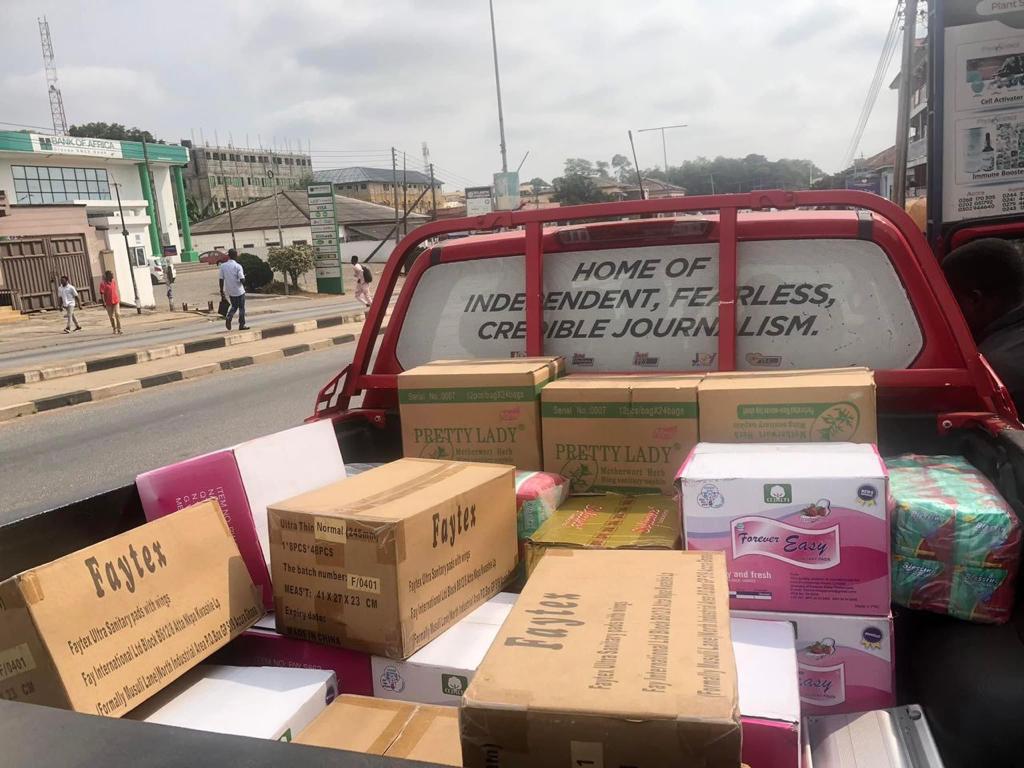 Luv Fm pad distribution in deprived communities
May 28 is World Menstrual Hygiene Day, commemorated with the objective of combating period poverty – a state of girls' inability to afford sanitary pads at that time of the month.
Luv 99.5Fm in Kumasi is spearheading the free distribution of sanitary pads to girls in deprived communities as part of the station's corporate social responsibility project.
"Last year, we embarked on a journey to change the narrative by educating the public on period poverty and bringing the issues on the front burner, going to these communities to know at firsthand the issues, and contributing our quota to change the narrative," said Eugene Osei-Tutu, lead project coordinator.
In 2022, the station distributed almost 1,000 pieces of sanitary pads to about 400 girls in six schools in the Ashanti region – Kokoben MA, Odurokrom and Okaikrom Basic Schools, Asem Girls and Agric Nzema schools.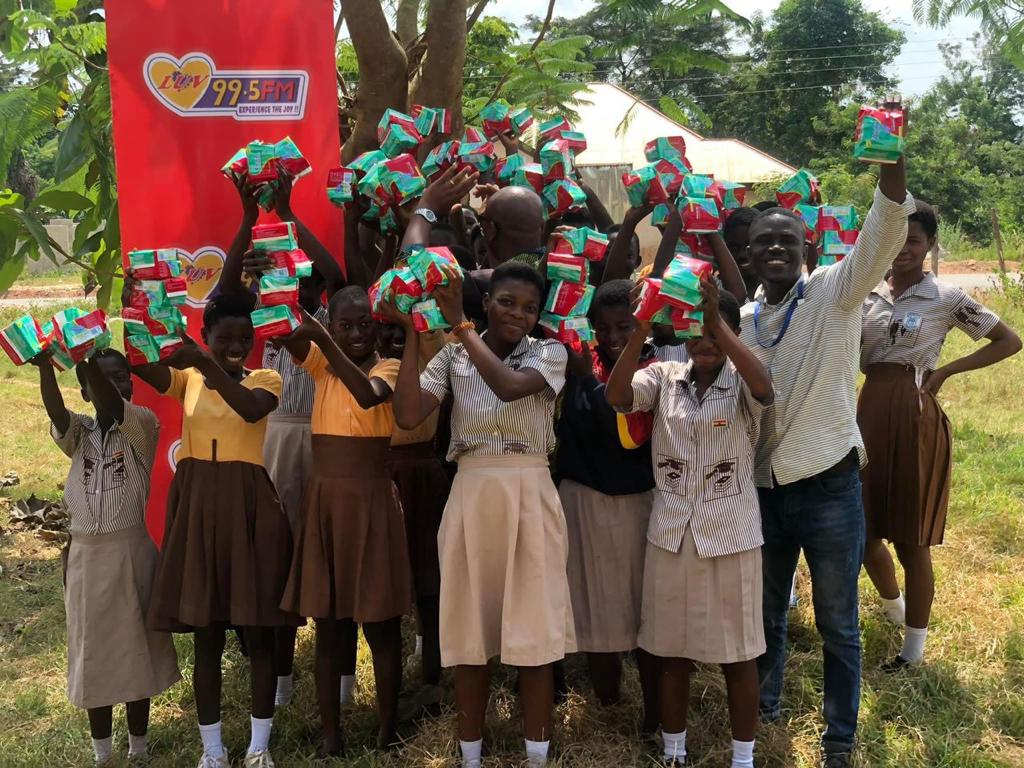 The compassionate exercise is to help end period poverty and its associated challenges of infections, reduced school hours, stigma and abuse of dignity.
Throughout the month of May, Luv Fm's Luv in The Morning show has been on a campaign to promote public awareness on menstrual hygiene and soliciting help for girls in period poverty.
In commemoration of this year's World Menstrual Day, Luv Fm plans to donate 100 boxes of reusable sanitary pads, in addition to over 2,000 pieces of disposal pads, to schools in the Amansie Central District.
The area is targeted due to reports of high incidence of teenage pregnancy, period poverty and reduced school hours among girls.
Several individuals, groups and institutions have responded positively to the initiative by donating money and sanitary pads for the cause.
Donors include the Federation of Female Lawyers, Cocoa Abrabopa, St. George's Ladies Fellowship, June Borns–KNUST Basic School, Female Bankers at Ecobank Harper Road, Eco-me Africa, Apple Valley International School, YAZZ Sanitary and Forever Easy pads.
To support Luv Fm Sanitary Pad Initiative, send your contribution to the MOMO Number: 0593038840 (MULTIMEDIA GROUP).