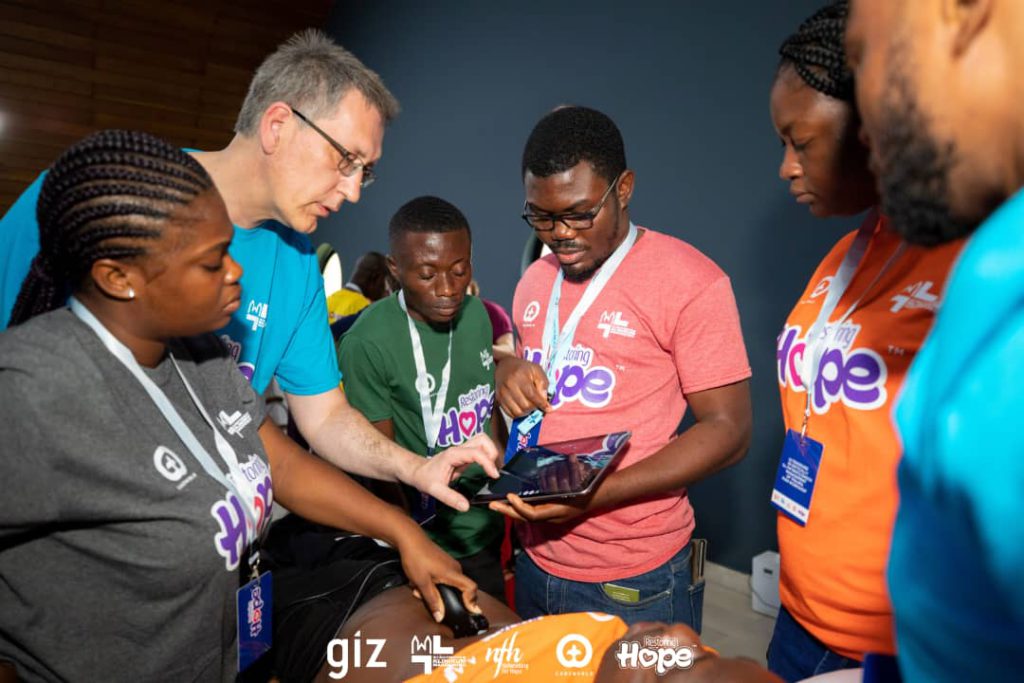 R.K Atikpo Foundation (RKAF) under the auspices of the Member of Council of State, Richard Atikpo, in partnership with German Agency for International Cooperation (GIZ) & Magdeburg and Networking for Hope, has donated some medical equipment and supplies to health facilities in nine districts of the Oti Region.
The items running into hundreds and thousands of Euros meant to help improve healthcare delivery include; hospital beds, defibrillators, monitor accessories, syringe pumps and cables, swimming aids, mobilization chairs, ultrasonic probe, ultrasonic device accessories, Personal protective equipment (PPEs), breathing Tubes, 02 Sensors, suctions, resuscitators, medical supplies, consumables, and ventilators.
A multi-day workshop was held with healthcare workers on the topic of ultrasound examination in emergency medicine in cooperation with partners from Germany. In addition to the theoretical knowledge, practical exercises were also carried out with patients. The doctors and nurses from the hospitals at Jasikan and Nkwanta were also equipped with new ultrasound devices.
A further and supplementary workshop is planned for the coming year so that an annual exchange would be initiated. The aim is to establish close connections with colleagues in Germany and to ensure a lasting improvement in the clinical situation in the Oti Region.
The project Manager, Reginald Seth Dogbey, assured the people of the region of the commitment of Mr Atikpo, and his partners to work and support health institutions to improve healthcare delivery. He also promised the people that the Foundation is working towards improving education, youth development, women empowerment, and sanitation.
The Medical Superintendent of Jasikan Government Hospital, Dr Fidelis Attia, on behalf of Health institutions in the region, expressed their appreciation for the donations, and prayed that they will receive more of such support in the future.
ALSO READ:
Ghana Link Network Services Ltd donates GHC 500,000 to support Dialysis Centre construction
Adom FM/TV donates over GHC 90, 000 to kidney patient