Numerous studies have brought to light the struggles faced by teenage girls in low socio-economic communities who cannot afford sanitary products and resort to using unhygienic alternatives.
This lack of access to sanitary pads during menstruation can have profound negative effects on these young girls, leading to reduced participation in daily activities, potential health problems, and a significant impact on their overall well-being.
In response to this critical issue, the Rotary Club of Obuasi has joined forces with three other Non-Governmental Organizations in Obuasi, namely the SELF-LOVE FOUNDATION, GIRLS SHALL GROW, and GOLD CITY MUMMIES, to establish a Pad Bank in Obuasi.
The launch of the pad bank took place on May 26th at Obuasi Secondary-Technical School, coinciding with World Menstrual Hygiene Day.
Rtn. Delphine Gborgblorvor, a member of the Rotary Club, highlighted the purpose behind establishing the sanitary pad bank—to provide accessible sanitary pads to girls from disadvantaged backgrounds who cannot afford them during menstruation.
Recognizing the challenges girls face during this time and the efforts made by local NGOs to supply sanitary pads, the Rotary Club of Obuasi aimed to bring all stakeholders together under one umbrella to establish the pad bank.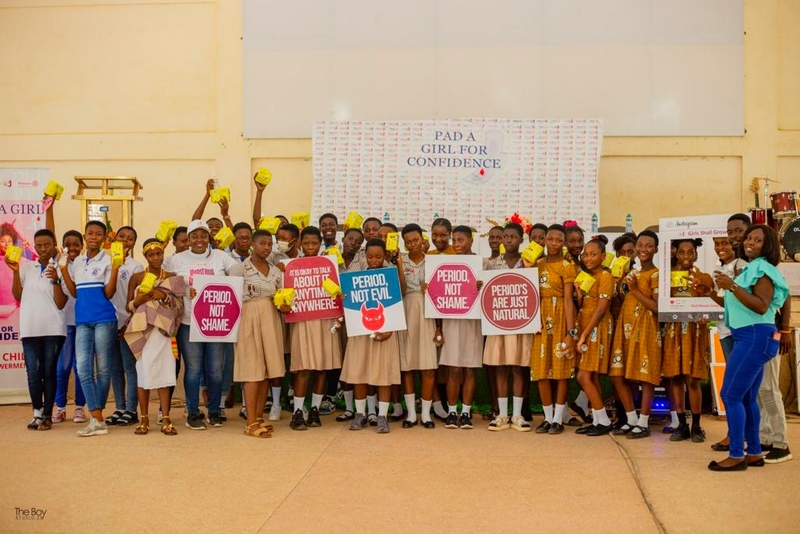 This initiative allows individuals, groups, and organizations to donate sanitary pads, which will then be distributed to vulnerable girls in collaboration with the Girl Child Coordinators in the Ghana Education Service (GES).
Addressing the issue of affordability, Rotarian Delphine emphasized that the pad bank is specifically targeted at girls from impoverished homes who are unable to afford these essential items. To sustain the program, she made a plea to other NGOs, individuals, and organizations to contribute sanitary pads to the bank at any time.
Louisa Amoah, the Executive Director of Girls Shall Grow, urged the government to intervene in making sanitary pads accessible to girls, particularly those from deprived communities.
She deemed it unacceptable for girls to miss school during menstruation and suggested that the government reduce the taxes imposed on sanitary materials to make them more affordable, as they currently cost around Gh20 to Gh25 per pack.
Commending the collaboration of the four groups, George Alfred Koomson, the Obuasi Municipal Director of Education, expressed his support for the introduction of the sanitary pad bank. He believed that this initiative would help keep girls in school during menstruation and expressed concern over witnessing young girls resorting to unsafe alternatives during this time.
During the launch at Obuasi Sec Tech Senior High School, the Rotary Club of Obuasi and the other NGOs provided free sanitary pads to over 500 students in attendance. The event also served as an opportunity to educate the girls on safe and hygienic menstruation practices.